… and Hanukkah was almost over.
Well, to be fair, I don't really actually celebrate anything, but I do sort of get sucked into the "it's cold as balls, so let's get glitzy and eat a lot and give people nice stuff" mood.
Here's another lust-list, this time with some Holiday glitz:
Naomi collection (yeah, the whole damn thing) from Edge O' Beyond – $582 for bra, panty, thong, and suspender; $762 if you buy 2 of the gold-plated chains to go with it
(I didn't include the eye mask in my pricing, since they are really not my thing.) This set is breathtaking. It's also only available up to a 34E (or 36DD), which is heartbreaking. If I had money to spend on this, I'd totally buy a 34E and try to alter it to make it work. But even if they made a 30H, it's obviously way out of my price range.
Comexim Sharon – $45 for the set
Sharon is a gorgeous half-cup soft cup bra- I don't think I've seen this style at Comexim before. It looks like this set comes in a pretty limited size range, with a 65H being the largest volume available. Anna is pretty awesome about custom orders, though, so you might be able to get this in a larger cup.
Figleaves Tease Silk and Lace set in burgundy – $177 for bra, suspender belt, and either thong or panties.
Again, not including the eye mask because ugh. Anyway, I'm a sucker for lace, and burgundy is one of my favorite colours. Plus, the textures of this set would be divine. Available up to a G cup, though it looks like many sizes are already sold out.
Panache Clara in gold – retail $94, currently on sale for $59.60
While I respect Panache, I don't normally think of their bras as *beautiful*. The Clara in this gold/black colourway is definitely unusual for Panache, and seems more like something from Fauve (maybe also Masquerade?). It's available in 30-38 D-J, making it the only thing on this list so far that might actually fit my boobs. From my experience, Panache bands run tight, so this might work for those who need 28 bands.
Black Clair de Lune Robe by Angela Friedman – $265 (also comes in ivory, $295)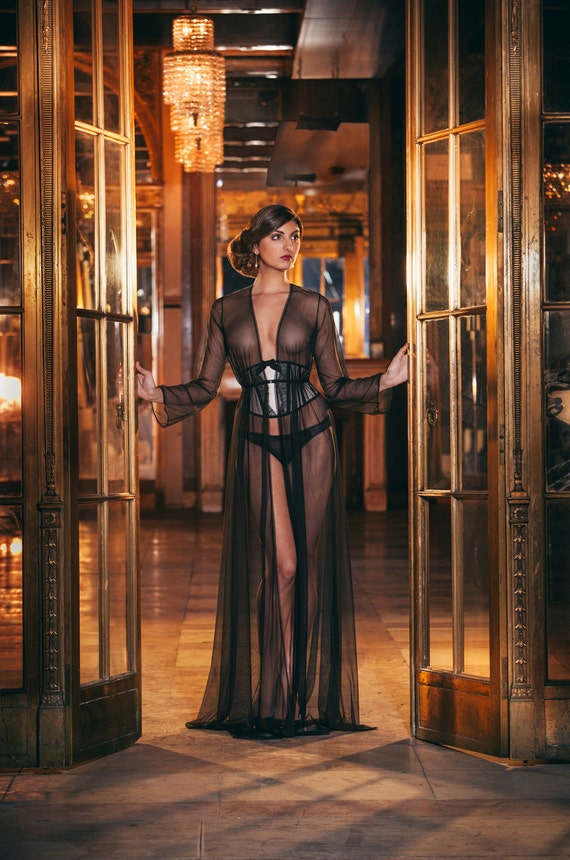 Sexy, simple, and downright gorgeous. I might be tempted to wear this over an evening gown or really fancy cocktail dress.
And I've saved the best for last:
Amoralle Magnum Almond Robe – Currently $1,179
I woke up a few months ago with a sudden and unexplained love of luxury robes. I do not have this kind of money. Stop it, brain. (But seriously, if you buy me this robe, I will love you so much.)
So yeah, there's my list. Not everything on it would fit me, and my bank account is not nearly full enough for my tastes… but I'm certainly allowed to drool on my laptop.
Happy Holidays, if you're celebrating, and just general happiness if you're not!